For Your Eyes Only is a group exhibition I curated for the online platform Feral File, where it is currently on view. Featuring works by 13 international artists, the exhibition investigates the future of human visual culture amid the ubiquity of machine vision. I'm posting here my curatorial essay and information about the works in order to link, at least ideally, two extraordinary communities I've been part of along this year.
Participating artists: Morehshin Allahyari (U.S.), Sara Bezovšek (Slovenia), Émilie Brout & Maxime Marion (France), Anna Carreras (Spain), Petra Cortright (U.S.), Francoise Gamma (Spain), Theodoros Giannakis (Greece), Kamilia Kard (Italy), Jonas Lund (The Netherlands/Germany), Lev Manovich (U.S.), Petros Moris (Greece), Katja Novitskova (The Netherlands), Jon Rafman (U.S.)
Feral File is a one-of-a-kind online community and platform with an embedded marketplace – "a space for the new media community to co-create the future of art making, exhibiting, and collecting". It has been conceived by artist Casey Reas and it's built over the Bitmark blockchain. All works are presented in large editions at accessible prices, in order to be able to involve a larger audience of collectors.
The exhibition is accompanied by a conversation I had with Antonio Somaini, professor in film, media, and visual culture theory at the Université Sorbonne Nouvelle – Paris 3.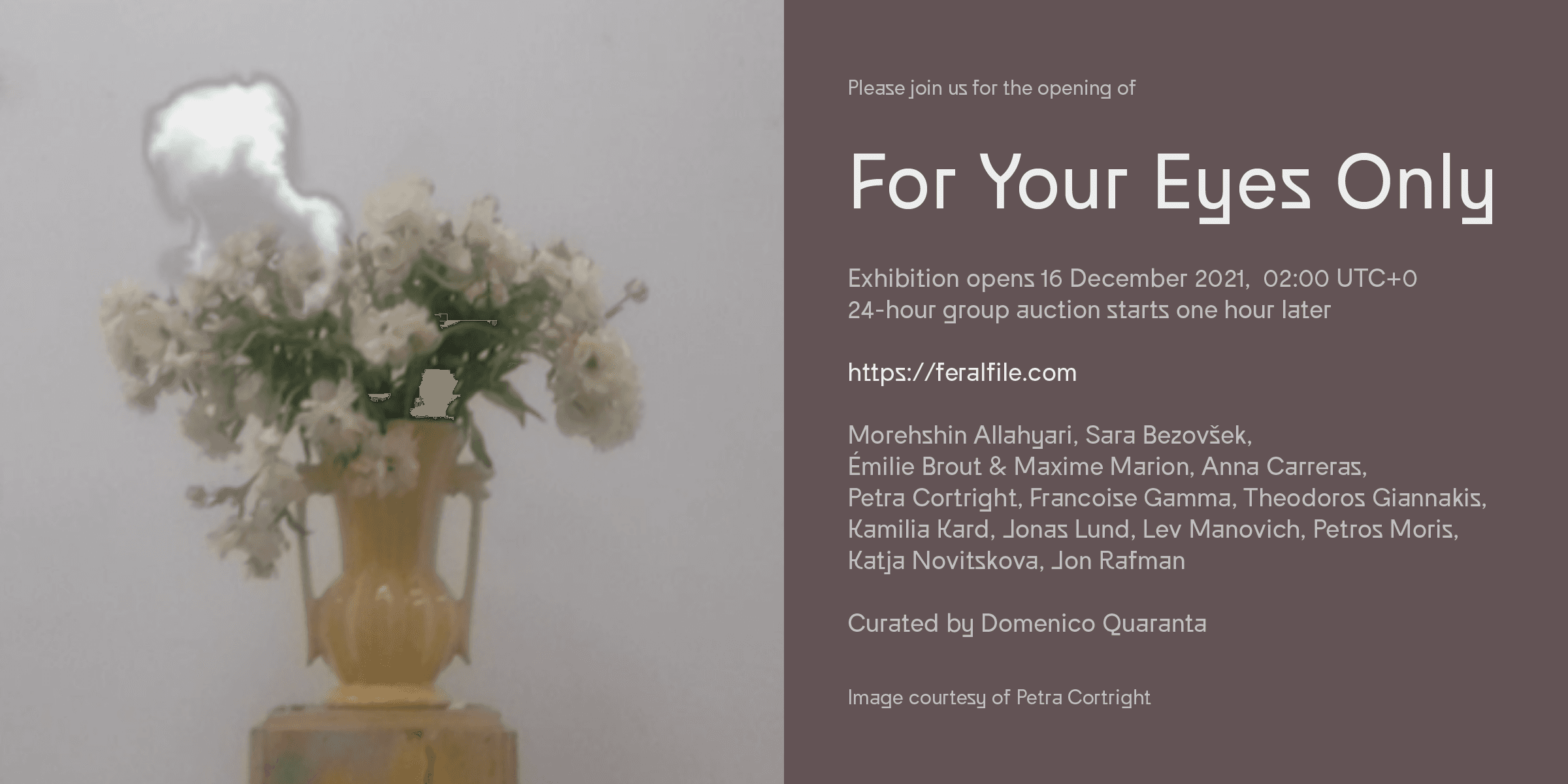 "Over the last decade or so...human visual culture has become a special case of vision, an exception to the rule. The overwhelming majority of images are now made by machines for other machines, with humans rarely in the loop,"1 artist Trevor Paglen wrote in 2016. Paglen's statement doesn't apply just to machine vision imagery and datasets: any born-digital or digitized image may or may not be seen by human eyes, but would always be seen by a number of machines— the device taking it, the computer we use to archive or edit it, the server where we upload it, and the number of algorithms active at any of these levels.
Machines not only see images, they also turn them "operational." According to Harun Farocki, "operational images" are images "not meant to inform the public or instruct people,"2 but to make something. Images taken by surveillance cameras, or by self-driving cars, are natively operational, but virtually any image gets, by default, "operationalized" at the very moment in which it goes under the gaze of a machine.
In short, with the development of machine vision, visual culture has become a contested territory, and the human gaze and intelligence have become the minority group. Being aware of this ongoing process is crucial if we want to preserve what's inherently human in the act of making, seeing, and interpreting images; if we want to keep hold of the field of vision. What's at stake is not only the freedom of images—their existence outside of a given function, be it improving our user profile in order to sell us something, allowing other users to tag us in their pictures, training a machine to distinguish between a leaf and a flower, helping the security apparatus to identify a criminal, or the military to bomb a given spot. What's at stake is also images' irreducibility to a list of tags or a set of parameters, their ability to be something more than what they represent. What's at stake is the very existence of human vision. How long will we be able to see and understand images in ways different from those of the machines we trained to see? Will images keep existing as a layered, ambiguous yet extremely rich and powerful, instrument of communication between humans that nobody and nothing else can master and understand as we do?
If, according to Paglen, in order to understand machine vision we have to unlearn how to see like humans, this very unlearning only makes sense as the foundation of a recovery, and an improvement, of human vision. How can we do it? No image can escape the gaze of the machine; but images can resist it. They can do it by physically or digitally incorporating features that defy, at least by now, machine vision; by featuring ambiguities and nuances that defy, at least by now, machine intelligence. But more importantly, they can do it by displaying an emotional and semiotic complexity, an "infra-thin" dimension that may only be captured and understood by humans.
Yet, in order to resist the gaze of the machine, images have to be crafted with this purpose in mind. Now more than ever, our visual vocabulary and its syntactic structure needs to be improved and turned into an encrypted code whose key cannot be attained by anything inhuman. This bestows image makers, and more specifically visual artists, with an extraordinary level of responsibility as the caretakers of human-readable visual language.
For Your Eyes Only is a curatorial concept that aims to stimulate a conversation with contemporary artists about the future of human visual culture, and to investigate how they are working, in different ways, on the development of a visual language capable to resist the machine gaze and its implications, and to improve human visual communication—a post-AI, posthuman human vision. The exhibition includes images of diverse nature and origin, submitted as answers to the questions raised in this text. And yet, images can be used like words, but they are not words. They can be paraphrased, explained, and described, but no description will ever exhaust them. They can be used like answers, but they are rather proofs. They have been sent by a human to another human, each of them carrying much more than what I asked for. They are not delivering an answer, they are the answer. Try to read them, and you'll soon find out that they have as many readings as readers. Enjoy, they're for your eyes only.
Trevor Paglen, "Invisible Images (Your Pictures Are Looking at You)", in The New Inquiry, December 8, 2016.
Chris Darke, "Images under the lens: A Conversation with essay film-maker Harun Farocki", in Vertigo Magazine, vol. 2, Issue 5, Summer 2003.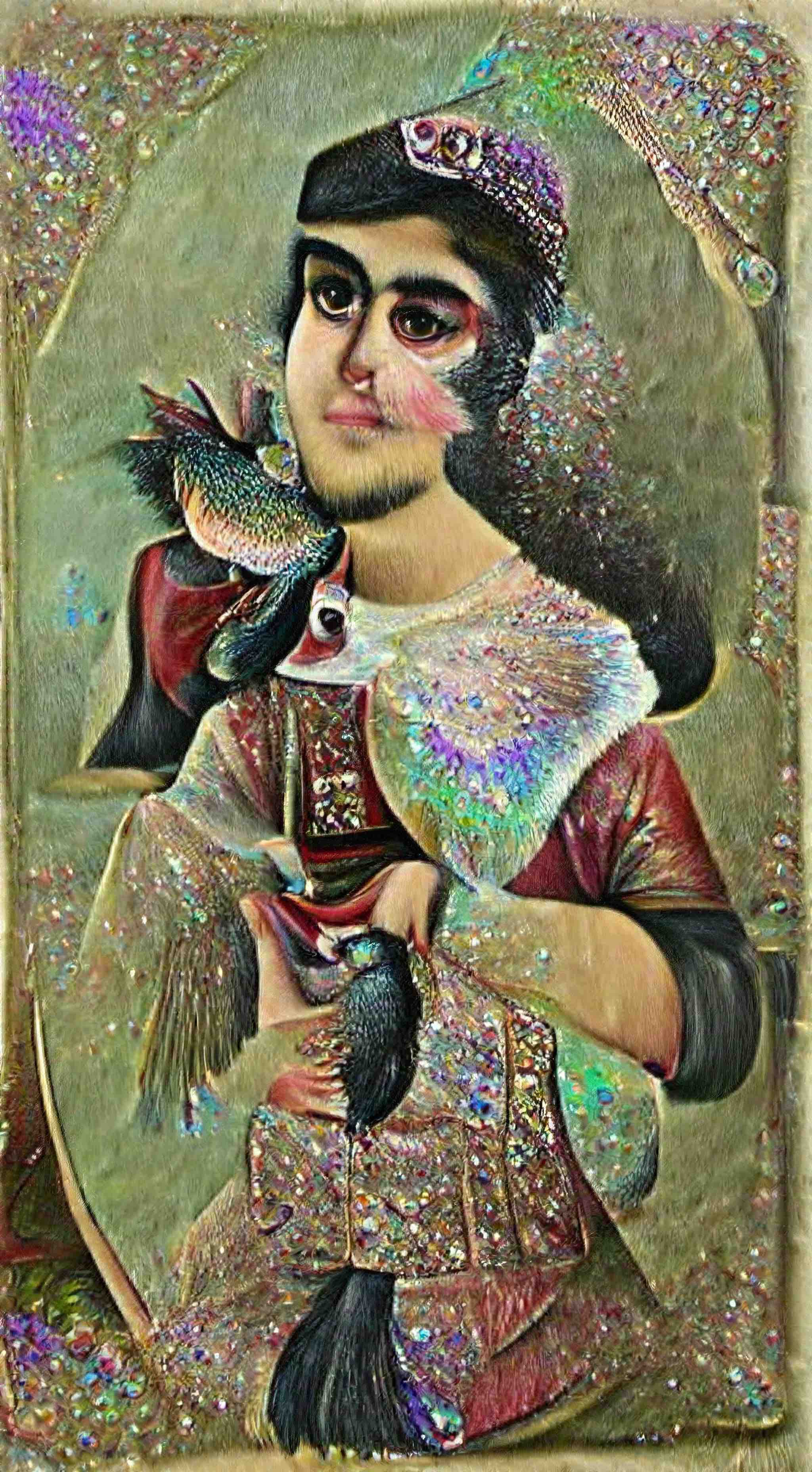 In ancient Persian literature, ماه طلعت، ("Moon-faced") was a genderless adjective used to define beauty in both men and women. In contemporary Iran, it refers to the beauty of women only. Something similar happened, in the world of images, to the Qajar dynasty portrait paintings: the modernization of Iran, the influence of the European tradition of realistic painting, and the use of of camera technology and therefore photography as a model, overshadowed and ended the queer representation of genders that historically characterized these paintings, largely known for their gender-undifferentiation. For her project, "ماه طلعت، Moon-faced," Allahyari uses a carefully researched and chosen series of keywords with a multimodal AI model to generate a series of videos from the Qajar Dynasty painting archive (1786-1925). Through this collaboration, the machine program learns to paint new genderless portraits, in the effort to undo and repair a history of Westernization that ended the course of nonbinary gender representation in the Persian visual culture. The music in this video was composed by Mani Nilchiani.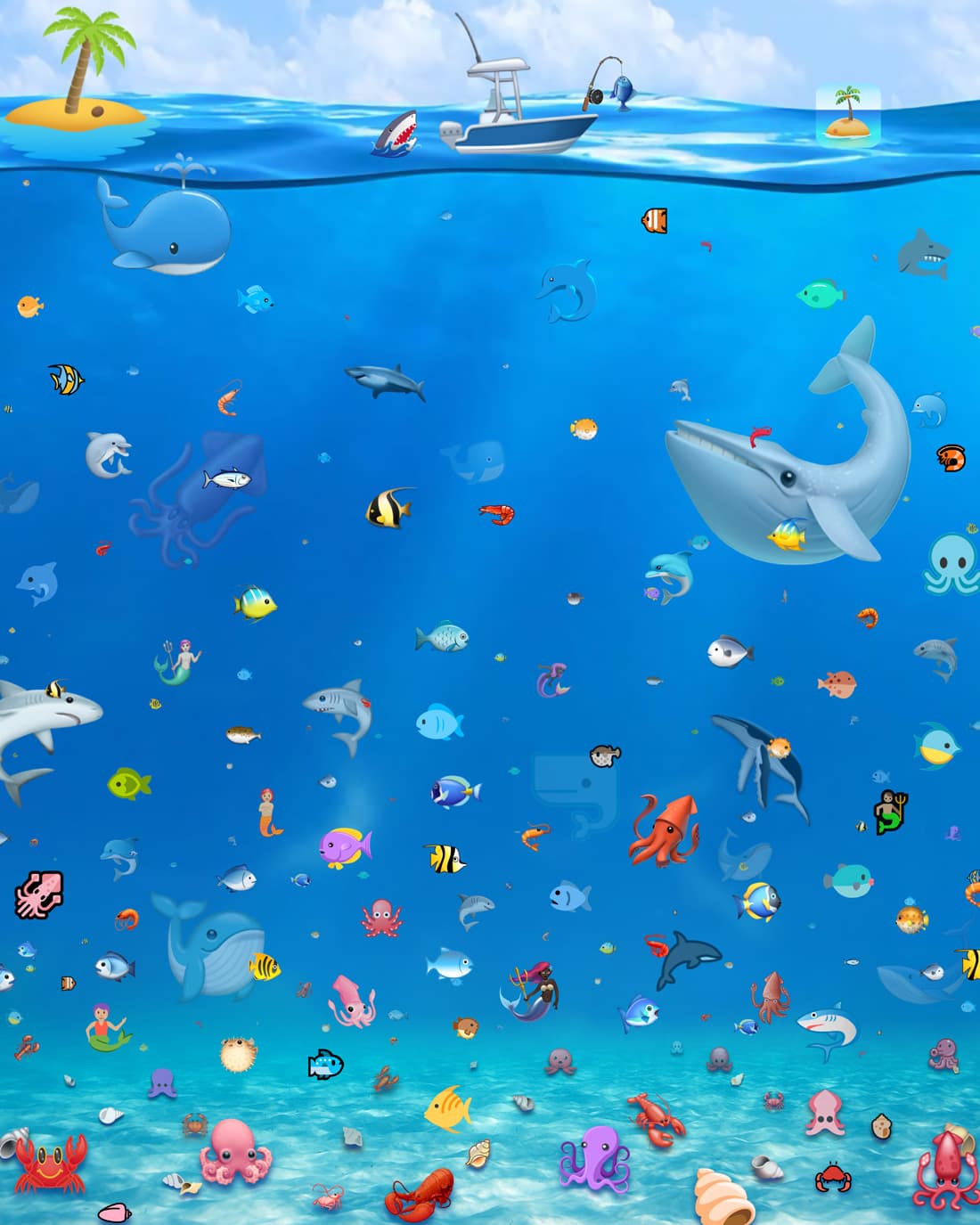 "Marine Emojidiversity" is a digital collage made from different sets of emojis, displayed on a background made out of stock images. It includes 14 collections of different providers, such as Google, Whatsapp, Twitter, Mozilla, LG, Microsoft, HTC, Samsung, Facebook, Apple, etc. Since the Unicode standard is only an abstract specification, which is then realized by typography and OS designers through their original work, there are various open-source and protected implementations of this specification. Emojis are images that can be used like words—indeed, they are words, characters built from an alphabet. Stock images are plain visualizations of the tags used to retrieve them. Everything is conventional in this picture, except the final picture.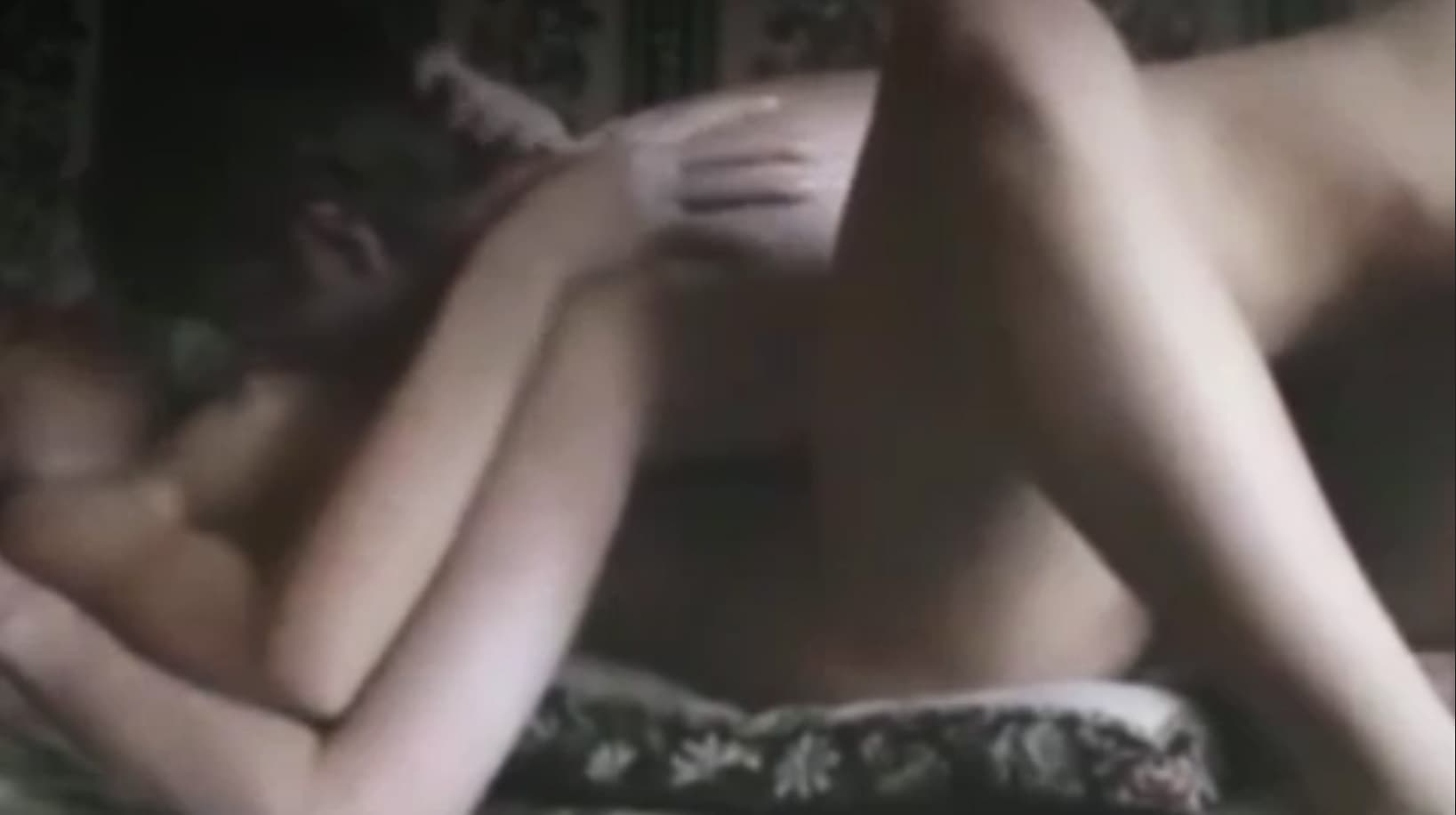 "sextape" consists of an amateur pornographic video, found online and with no particular qualities, manipulated with deep fake algorithms so that the faces of Émilie Brout and Maxime Marion can be recognized. It plays with the tension of two radically opposed strategies of reputation-shaping: revenge porn (the sharing of a forged video to discredit and humiliate a person) and the voluntary leak of a real and exciting document by public figures in order to gain credibility and media visibility. The brutal evidence of this rectified ready-made clashes with its ambiguous nature: what is it, exactly? Why was it made, and why was it published?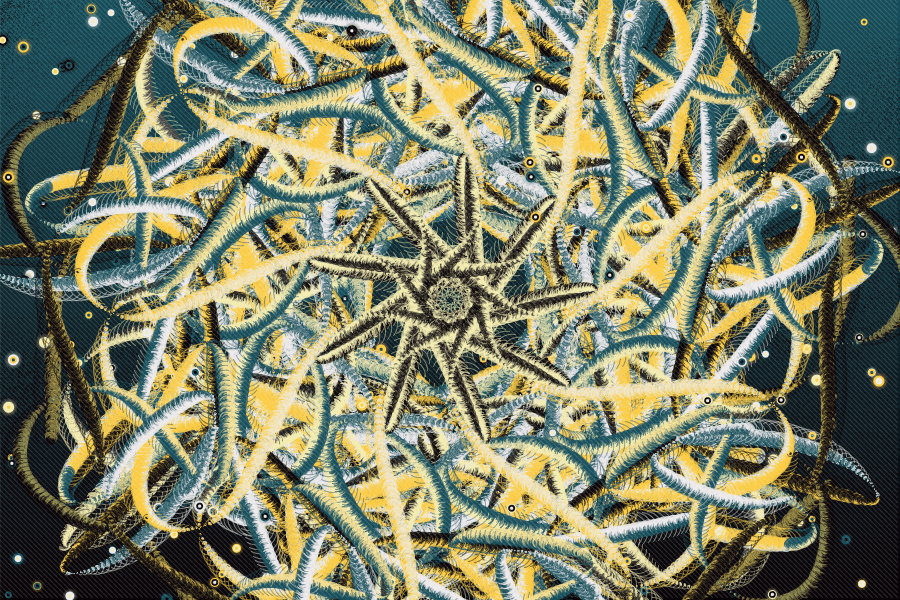 Anna Carreras' generative art often challenges the conventional aesthetics of the medium by generating visual outputs that are both abstract and referential, organic and artificial. Her color palette and aesthetics reveal a closer look at Mediterranean craftsmanship and landscape. "Ganxillo" is a generative piece inspired by her grandmother's practice of crochet textiles. Like crocheting, coding is a step-by-step handcraft, creating patterns and drawings from small geometrical stitches—a never ending, repetitive process; a mantra that generates beauty. When you observe the resulting patterns, several abstract images may emerge, becoming the starting point for new narratives and memories. Press numbers and keys, or click your mouse, to discover the piece's interactive elements.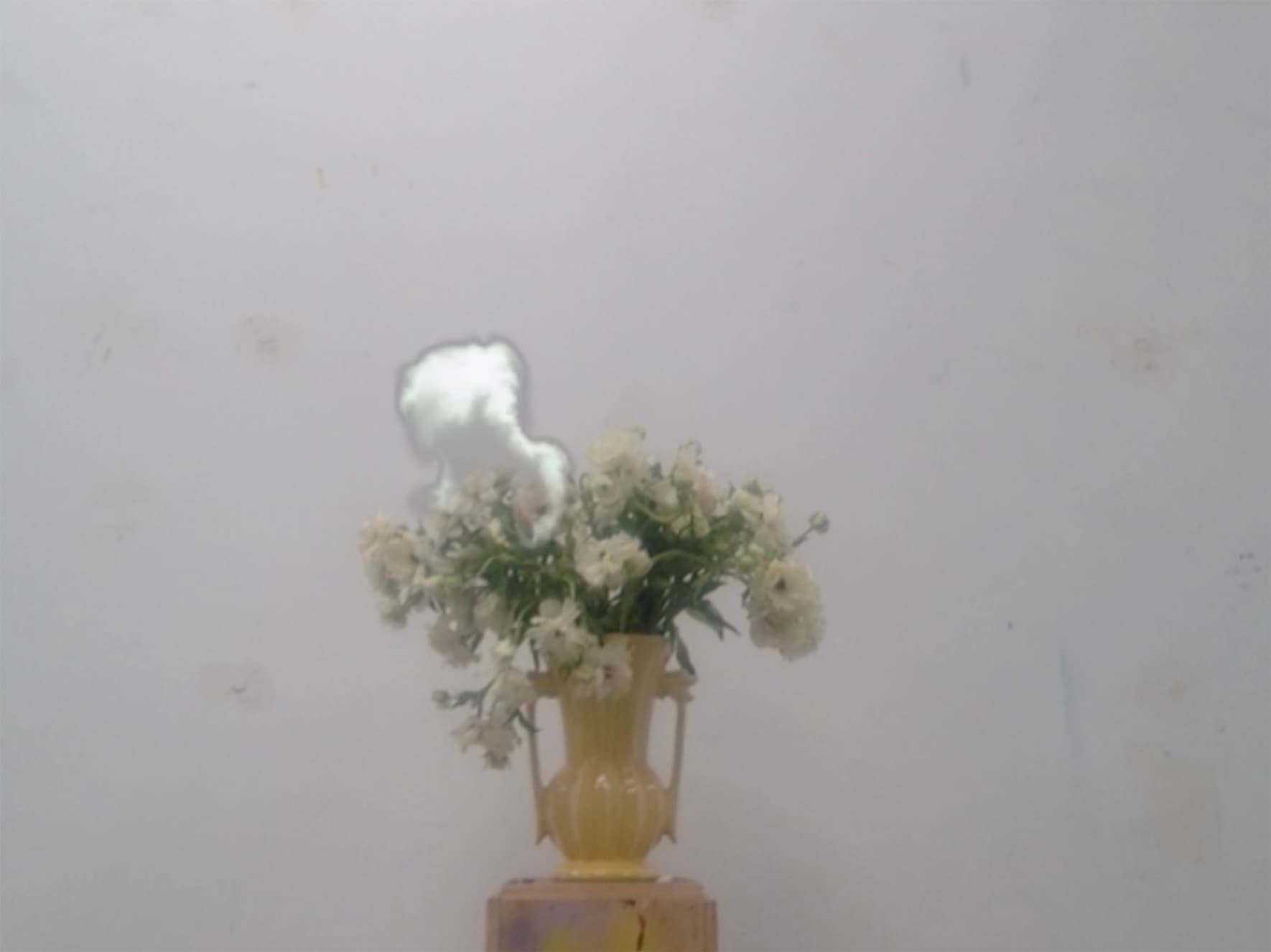 Like the webcam videos Cortright has been working on since 2007, "smoking-vase-1" was filmed with no post production, just live use of standard webcam software. Similar to Instagram or Snapchat videos, the effects are part of the original recording, but by contrast, "smoking-vase-1" is not part of a networked system designed for data mining and facial recognition. The looping animation is slow, simple, and with a focus on beauty, which led Cortright to her choice of subject as well as the obsolete filter. To shoot "smoking-vase-1," Cortright used an old 2014 Mac OS, which gives the image a vintage flavor. A favorite subject of her digital paintings, flowers are featured here as a fragile metaphor of time passing, of a relationship between the real and digital sphere that is ever evolving, never the same.
"Fractura" picks up on the modes of representation that image transformation enables. Just as Pop Art took over and somehow shifted the world of visual advertising, Gamma slightly dislocates technological images so that they reveal something other than what they are meant to. And similar to the way Pop artists were enthusiastic about the trivial world of signs, Gamma is taken with the unintentional beauty of machine art. Featuring a rotating cyborghian, genderless head, "Fractura" displays the classic elements of Gamma's GIFs: line drawings, flat 3D objects, rotating models, body parts, an indexed color palette, all of which generate characters that somewhere on the internet have been defined "transsexual Bellmeresque zombiedroids."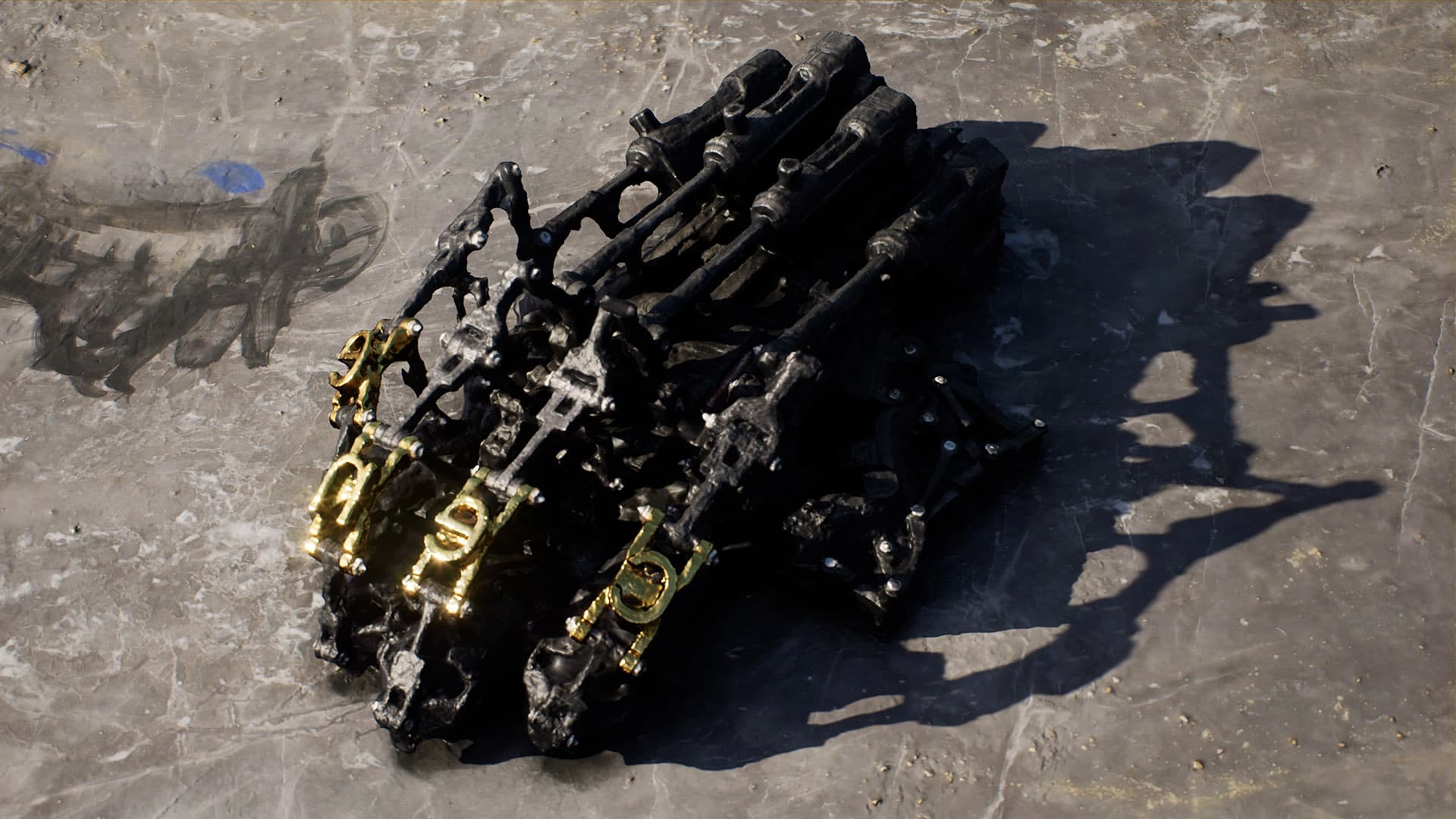 "Daemon (cene)" is the one-half of an NFT diptych created by Theodoros Giannakis together with Petros Moris, as part of a long-term dialogue on the interfaces between biological, cultural, and machinic forms of desire and cognition. Two digitally-fabricated sculptures were photogrammetrically scanned at a shared physical location in Athens, then separated and re-rendered within a computational environment of non-linear time. Mirroring each other, the sculptural phantoms are divided and connected by an emergent membrane-system of entangled sensoria and chimeric memory. Concealed within the "Daemon" diptych lies a digital file that can be reconstructed after acquiring an edition of both NFTs, each containing one-half of a ZIP archive.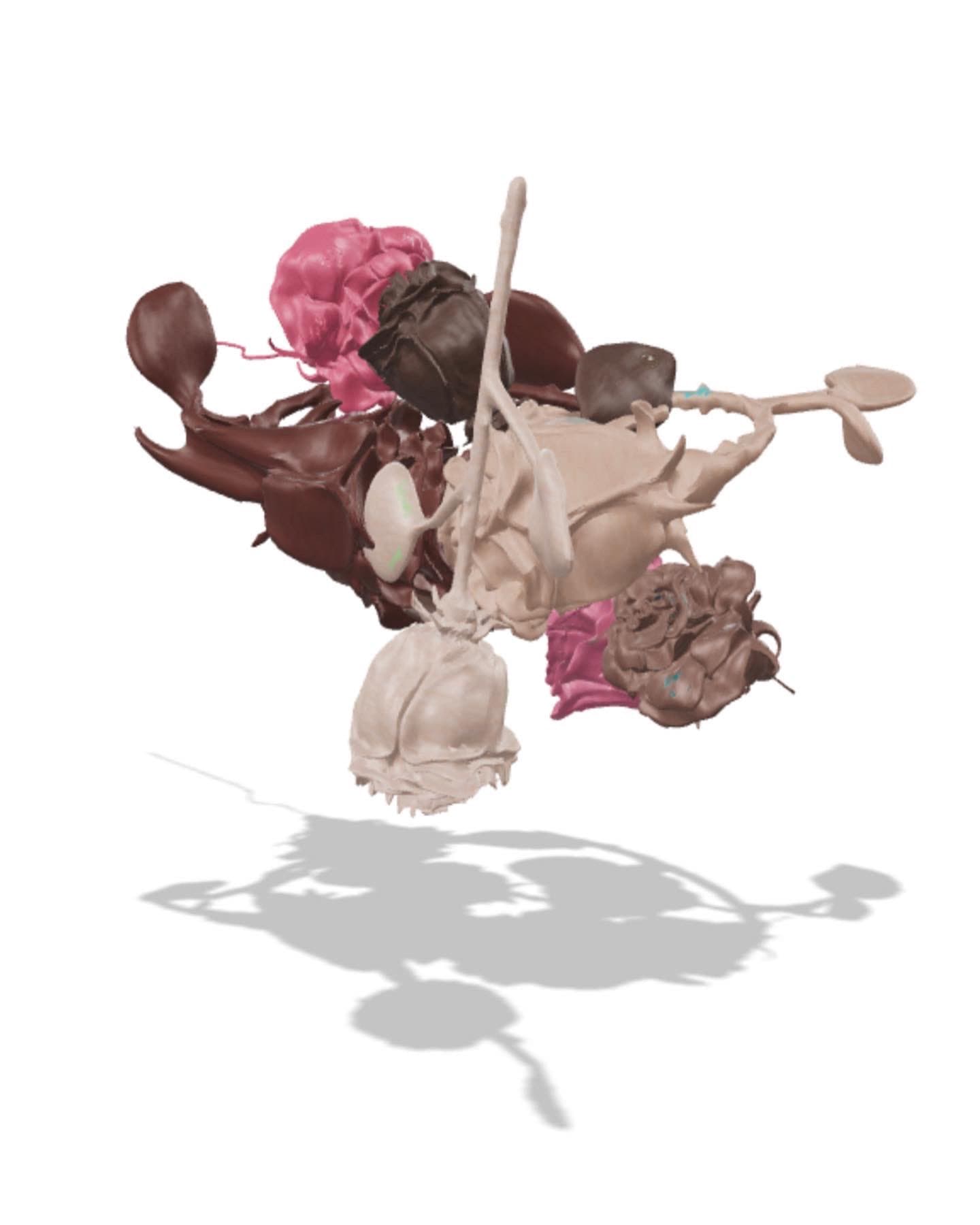 Kamilia Kard's work is often concerned with the creation of emotional landscapes—3D environments that can either take the form of immersive virtual scenarios, presented as VR installations or playable games, or of large scale digital paintings, inhabited by monumental headless female bodies, photographic memories, painterly interventions, and silhouettes. "A Rose by Any Other Name" is one such space: a 3D model crawled by eerie creatures whose materials and textures recall the sensuality of the flesh, while their forms evoke the voluptuousness of roses. An exhausted symbol of romantic love, the rose turns carnal, sexual, and creepy at the same time. Often used in sentences that address the relationship between objects and words (Shakespeare), or stating the law of identity (Stein), in Kard's work the rose becomes an emblem of shadiness and uncertainty.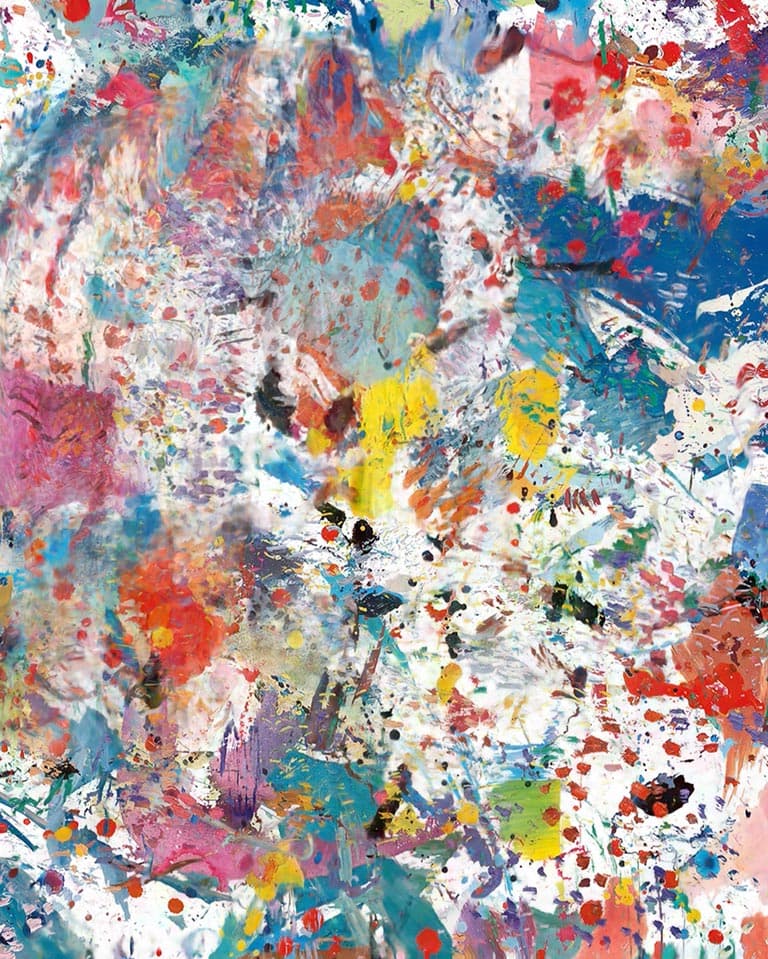 According to the art critic Arthur C. Danto, "To see something as art requires something the eye cannot decry—an atmosphere of artistic theory, a knowledge of the history of art: an artworld." Since 2014, Jonas Lund has been making abstract paintings using elements sampled from paintings by other emerging artists, optimized for market success. The morphing animations in "Smart Cut" are made out of images from this series that were not selected for production: works as part of the process, works as they were before they got "good," left-over abstractions. Turned into animations, these discarded images—not art, according to Lund's "artistic theory"—have been selected by a smart cut algorithm as the best ones and automatically pieced together.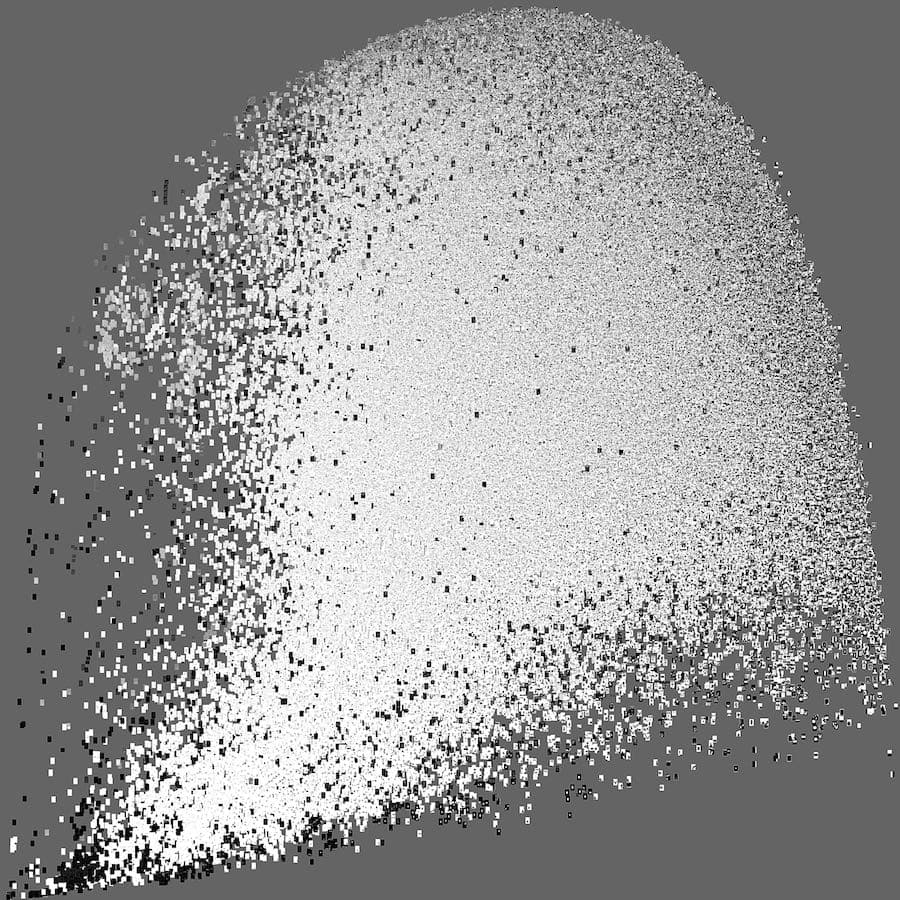 "One Million Manga Pages" shows 1,074,790 unique pages from 883 different manga series from Japan, Korea, and China. The series includes both popular long-running titles such as Naruto and One Piece, as well as several short-lived titles. Custom software that implements computer vision methods was used to measure selected visual characteristics of every page. Another custom program mapped the positioned images of pages on a 30,000 x 30,000 pixels canvas according to two such features (X-axis: standard deviation. Y-axis: entropy.) The visualization shows which graphical choices are more commonly used by manga artists (the central part of the "cloud" of pages) and which appear much more rarely (bottom and left parts).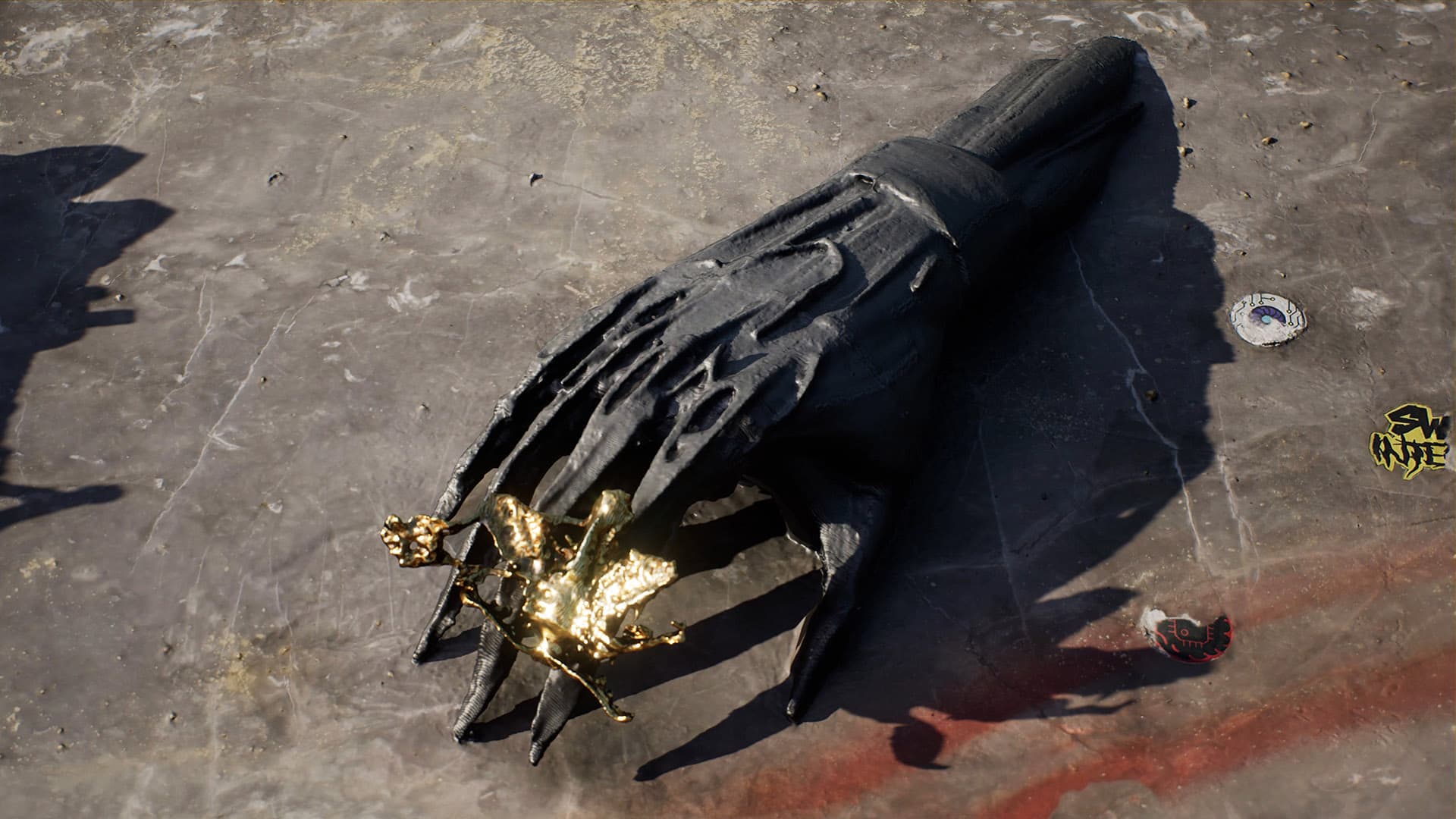 "Daemon (chaos)" is the one-half of an NFT diptych created by Petros Moris together with Theodoros Giannakis, as part of a long-term dialogue on the interfaces between biological, cultural, and machinic forms of desire and cognition. Two digitally-fabricated sculptures were photogrammetrically scanned at a shared physical location in Athens, then separated and re-rendered within a computational environment of non-linear time. Mirroring each other, the sculptural phantoms are divided and connected by an emergent membrane-system of entangled sensoria and chimeric memory. Concealed within the "Daemon" diptych lies a digital file that can be reconstructed after acquiring an edition of both NFTs, each containing one-half of a ZIP archive.
"Patterns of Activation (gardens of the galaxy)" is a GIF assemblage of images from various datasets the artist indexed on a citizen science platform, where volunteers are asked to index, draw on, and categorize images from various datasets, usually with the goal of training image processing AI algorithms. The images Novitskova worked on mostly include wildlife cam photos, astronomy, snail embryos, and monkey blood cells. If the overabundance of instrumental, machine-readable images may cheapen any meaning or aesthetic value, Novitskova actively digs some poetry out of these datasets. Such poetry comes from a combination of technology and the reality that it attempts to capture: glowing eyes of animals that reflect the flash-light of the camera, digital low resolution artifacts, accidentally stunning compositions of galaxies and forests, etc. The GIFs mechanical speed is faster than the usual human perception—it is functional to the machine gaze, but in itself it creates a new type of poetic image, too.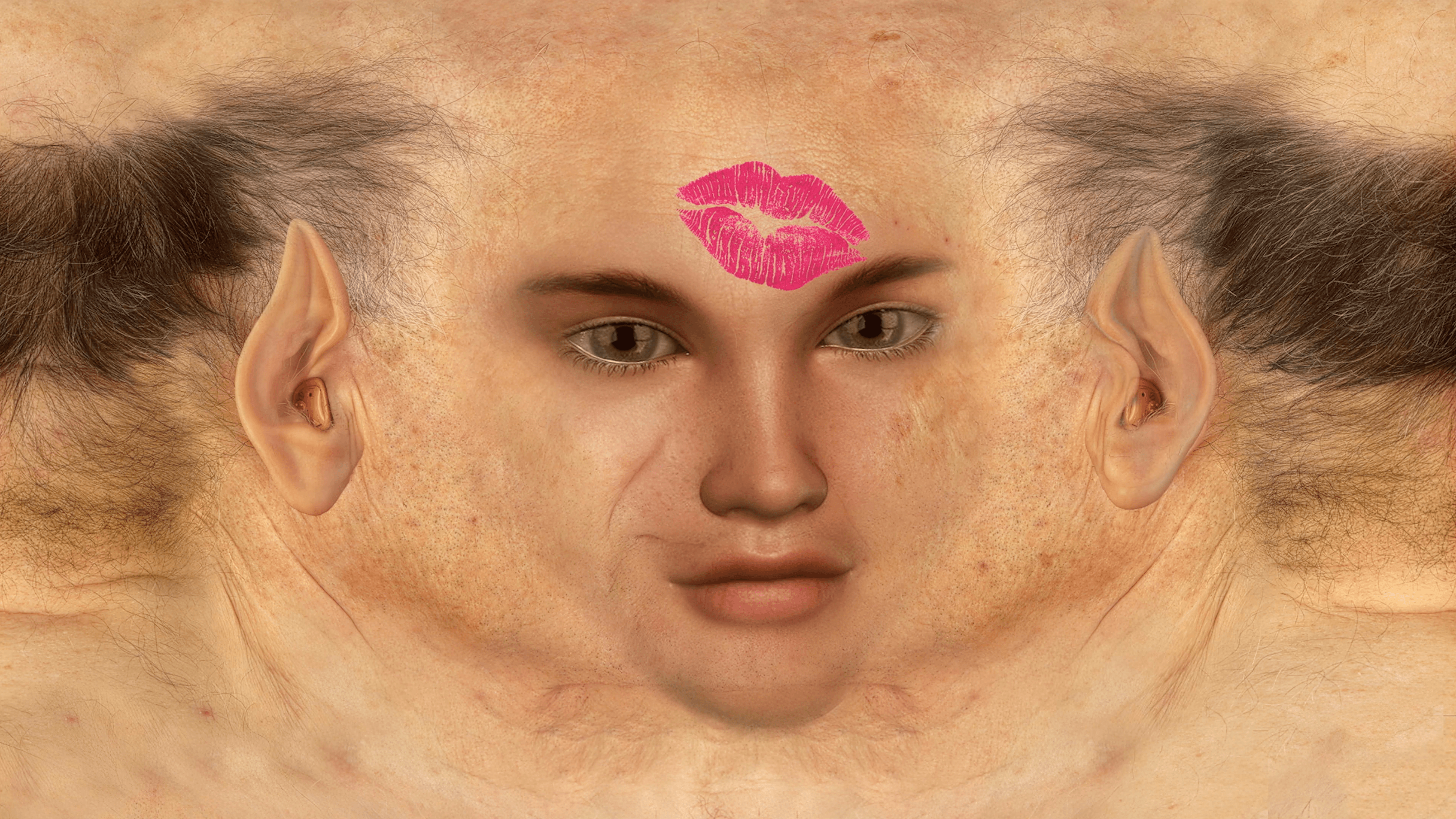 To create a complete 360° representation of a real human figure, visual effects companies utilize 3D imaging technology. One can then unwrap the scanned texture into a 2D plane, much like a world map. In ᖴᗩᑕIᗩᒪᔕ I, Jon Rafman alters a selection of these unwrapped head textures and animates the transformation in the style of VFX breakdown reels, typically used to showcase the special effects in movies and games. The result is a jarring conglomeration of characters, a carnivalesque cast of commodities. Rafman's work is the reverse of anthropomorphism: ᖴᗩᑕIᗩᒪᔕ represent the reified experience of the self and others as mere objects and images. Rafman states that these custom textures will evolve into wearable skins designed for 3D avatars, which, in turn, may eventually be purchased and used to inhabit the various metaverses. In a world where most of one's time is spent in online worlds, avatars become increasingly crucial to constructing our identities. The dividing line between our real and virtual bodies has already blurred. As we spend more of our existence in front of a screen, our web personas become more significant to who we are than our physical bodies. When one wears a mask long enough, it is absorbed into one's character.